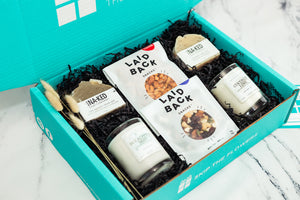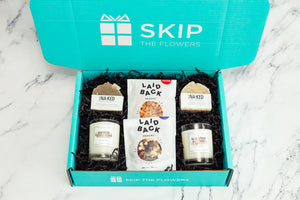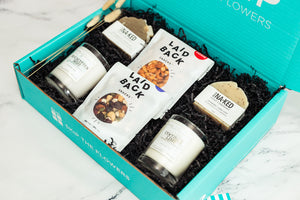 Candles and Soaps Gift Set
Scent is the most powerful memory trigger, this is the gift they will always remember. Handcrafted soaps and soy candles make the perfect gift for Birthdays, Congratulations, Mother's Day, Father's Day, Thank You, and many more special occasions. 
Natura Soy- Vanilla Maple Latte Tumbler Jar Soy Candle 10oz (65+ hr burn time)
Natura Soy- Woodsmoke and Gin Man Candle 

Soy Candle 10oz 

(50+ hr burn time)
Buck Na-ked Soap Company- Soap Bar for Him
Buck Na-ked Soap Company- Soap Bar For Her
Naked Snacks – Large (2)
Choose to swap out our signature box with a Wooden Keepsake box.
Want to add more to this box?? Check out our singles section to add to this gift!

Item#G4017
*** Please Note: We pride ourselves on supporting small-batch and local artisan businesses by including their goods in our gift boxes. As a result, certain items can become unavailable on occasion and without a lot of notice. In the event an item is unavailable at the time of your order, we reserve the right to substitute an item of the same type, of equal or greater value, and as close to your original item as possible. We will not substitute an item unless the quality and aesthetic meet our extremely high standards.