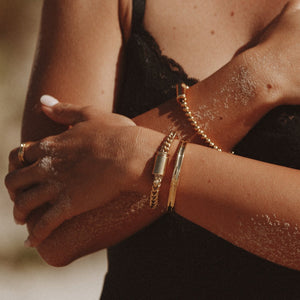 Brass & Unity- Quattro Bracelet Gold
Named after it's square-style chain, the Quattro bracelet features a beautiful plated stainless steel construction, and a super clean magnetic closure hidden inside the casing. Wonderful gift or addition to a gift box!
Closure: Internal Magnets
Material: Plated Stainless Steel
Color: Gold
Length: 7.5 inches
Brass & Unity is a Veteran owned charitable jewelry company. B&U donates 20% of their net profits to Veteran assistance programs around the world.