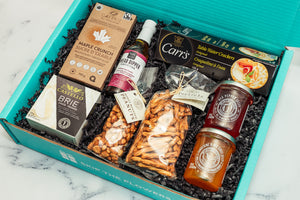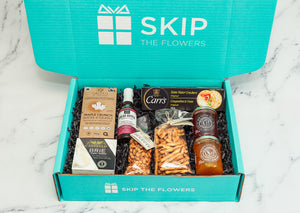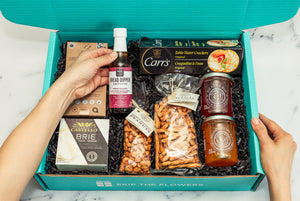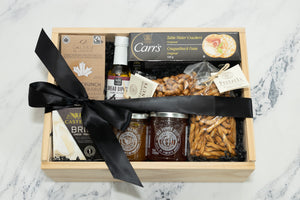 Delicious dips, cheese and snacks, a true artisan collection. This gift box makes a great gift for all occasions. Whether it's a client, family, friend or colleague, they'll definitely be WOWED with this mouth watering selection of upscale products, both Canadian and Global.
This gift box includes
Galerie Chocolate Bar- Fairtrade
Castello Brie Cheese
Carrs Crackers
Wildly Delicious Bread Dipper
Wildly Delicious Jelly (2)
Honey Roasted Peanuts
Pretzel Sticks
Choose to swap out our signature box with a Wooden Keepsake box.
Want to add more to this box?? Check out our singles section to add to this gift!
Item #G4003
*** Please Note: We pride ourselves on supporting small-batch and local artisan businesses by including their goods in our gift boxes. As a result, certain items can become unavailable on occasion and without a lot of notice. In the event an item is unavailable at the time of your order, we reserve the right to substitute an item of the same type, of equal or greater value, and as close to your original item as possible. We will not substitute an item unless the quality and aesthetic meet our extremely high standards.